With the constant changes occurring in technology, the HR industry has been impacted greatly. Organizations are looking for different technologies that can help them improve their recruitment processes. One such technology that is changing the future of businesses is Artificial Intelligence (AI).
AI is changing the ways businesses operate and has affected the talent industry as well. Moreover, with the changes occurring in the industry, there are a lot of gaps that were seen in the talent management industry. Hence, it has become crucial for the talent industry to opt for AI, as it helps businesses fill the gaps and operate properly.
"Talent management is a strategic process of getting the right talent onboard and helping them grow with the right planning and improve the business value."
Importance of Talent Management
Talent management plays a vital role in the success of any organization. Here is how talent management impacts an organization.
Helps in attracting top talent
Ensures driving organizational performance
Offers better succession management
Build organizational culture stronger
Help in promoting innovation
Impact of AI on talent management system components
A talent management system has 6 components, they are as follows: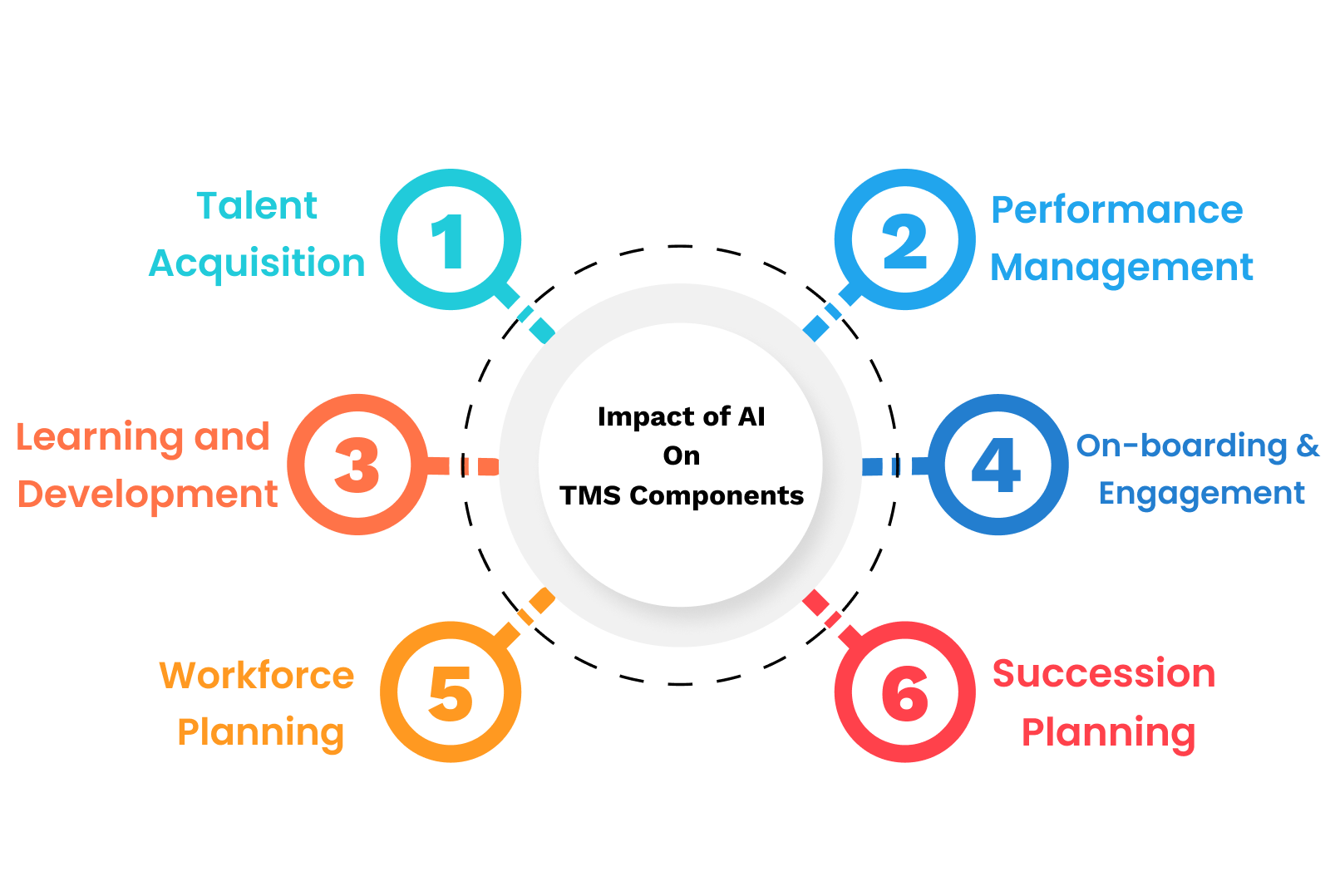 Now let us see how AI is revolutionizing all these components.
1. Talent Acquisition: Talent acquisition is a process of attracting, finding, and hiring suitable candidates that can meet job expectations. Often, businesses use talent acquisition and recruitment interchangeably, but they are completely different terms. The major difference is based on their focus. Recruitment focuses on filling open positions whereas, talent acquisition focuses on the long-term view.
AI is focusing on improving talent acquisition. Here are the main areas of talent acquisition where AI is used.
Job posting: AI using sentiment analysis to help recruiters identify the true potential candidates. It also provides suggestions to recruiters on creating appealing job descriptions.
Sourcing: Automated sourcing use AI to find the right candidate that fits the requirements of your job. It involves web scraping or specific field searches within resume databases such as CareerBuilder.
Resume Screening: AI plays a vital role in resume screening. It analyzes existing resume databases to check the employee's experience, skills, and qualifications. It helps businesses shortlist new candidates.
Candidate Outreach: With the rise in technology, recruitment chatbots use natural language processing to collect information. The information collected by the chatbot is placed in the database. Sometimes, it sends the information directly to the recruiter.
Candidate Rediscovery: AI analyzes the job description and then check the candidate's detail in the existing database. These are those candidates who have applied for the job in the past and verified if they fit the current job opening.
2. Onboarding and Engagement: When a candidate joins a company, it becomes crucial for the company to offer them a seamless experience. On the first day, decide their mindset regarding the company. With the advancement in technology, it has become easy for companies to give a seamless first-day experience to their employees. Learning management systems with AI play a vital role in helping companies improve candidates' experience. It also helps companies choose a path for professional development based on their skill set, knowledge, and additional skills. AI has enabled companies by giving them micro-learning opportunities as per employees' interests.
3. Learning and Development: With the rapid development of technology, learning, and development must stay updated. But numerous changes are happening, and it is exhausting for humans to keep learning and development up to date. This is where AI is the business savior. AI collects data and provides insights. It helps businesses develop customized learning programs faster than before.
Furthermore, AI can track individual activities and recommend job functions and descriptions based on their search.
4. Performance Management: Performance management focus on the performance of a business, its employees, and its processes. The major issue that employees may face is managers' bias toward their coworkers. But AI has taken that power away, as it helps to review the performance of every individual and gives them accurate feedback.
A machine learning-based talent management system helps business conduct capability assessments for their employees Moreover, these help businesses know their employees better, the places of improvement, and connect them with the correct with the right training programs and leadership opportunities.
5. Succession Planning: It is a process of developing and identifying new leaders. It is crucial to find new leaders in case present leaders leave. Not that, succession planning helps in enhancing the availability of experienced and capable employees. AI uses perspective analytics to can help businesses in succession planning. It includes finding the reasons behind the wrong things or measures and suggesting corrective measures which can help organizations in the present and the future.
AI is helping businesses grow, identifying the leaders within the organization, and connecting them with development opportunities.
6. Workforce Planning: Workforce planning is a process that ensures that an organization's priorities are meeting its regulatory, service, and production requirements and objectives. With AI-generated recommendations, managers can easily schedule a balanced job that can help employees work effectively. AI also helps in predicting unexpected events before they occur. Also, it helps team leaders and managers to make better decisions about scheduling tasks, meetings and plan their activities outside work.
Conclusion:
A well-defined talent management strategy helps organizations gain a competitive edge over competitors. AI is helping companies make better strategies and is helping recruiters in better hiring. But this does not mean that recruiters are going to lose their jobs, as nothing can replace the human touch.
So, if you are looking for talent management software, jiTALENT is perfect for you. It is an AI-powered recruitment tool that helps HR managers recruit faster and smarter.